Disclaimer – The information of this blog is not intended or implied to be a substitute for professional medical advice, diagnosis, or treatment. All content including text & images contained is for general information purposes only. Ceragem makes no representation and assumes no responsibility for the accuracy of the information. Source – The content is taken from Dr. Ashish Kumar Shrivastava, Senior Consultant Neurosurgeon video. This is totally Dr. Ashish's general health tip. In case of serious injury, kindly consult the representative expert or physician.
Monsoon is finally here and the bounteous rains are being welcomed with open hearts. The most beautiful sight in a whole year is the first rain.
But as the rainy day passes, the joy will not remain joy if we don't follow certain disciplines which we should follow during the rainy season.
People usually suffer from cold, cough, choked nose, heavy headaches, malaria, indigestion problem, acidity, etc. During the rainy season, it is generally found that the chances of getting an infection increase.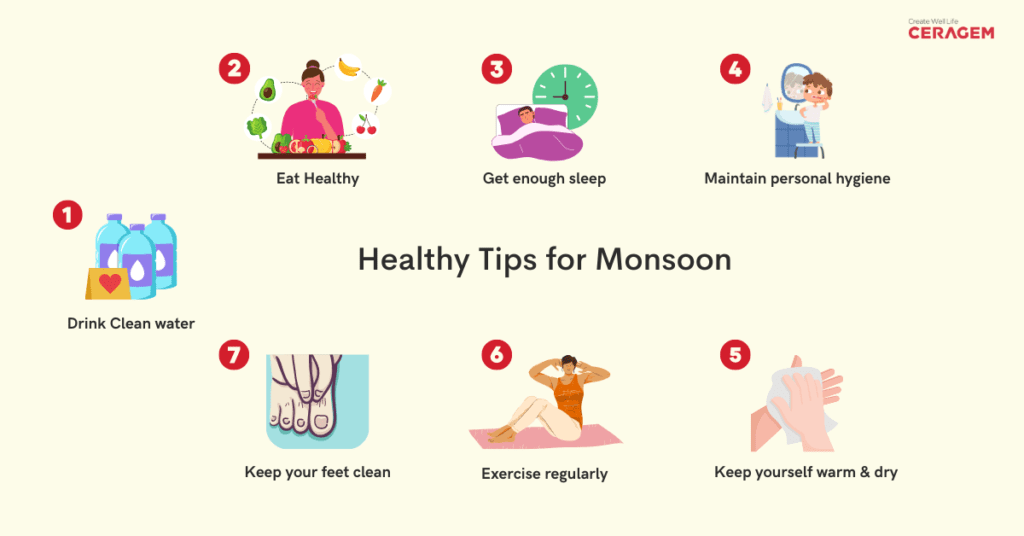 During the monsoon season, let us talk about the Healthy tips which we should follow so that we can enjoy the monsoon without pain and suffering:
Drink clean water – To prevent Waterborne Diseases Drinking clean water only from safe sources will prevent you from getting infected. The monsoon season is a time when drinking water is commonly contaminated, so always drink boiled water during the monsoon.
Eat Healthy – Avoid eating junk, spicy and fried food and take a properly balanced diet. Try to consume more liquids and seasonal fruits and vegetables.
Get enough sleep – Don't stay up late working or watching a web series. 7-8 hours of sleep bolsters immunity and helps to reduce the chances of flu and cold-like conditions common during monsoons.
Personal Hygiene – Personal hygiene like bathing and showering every day. Personal hygiene is extremely important to maintain during this season of humidity. You sweat a lot during his season and bathing is a good way to avoid allergies and infections.
People with Arthritis has been found that if the environment is cold or the humidity is high, then joint pain increases. People with arthritis should keep themselves warm and dry to prevent their arthritis from worsening.
People with Diabetic Foot Infection: There is constant moisture inside the body during the rainy season, due to which diabetic people are at significant risk, especially those who are prone to diabetic foot infection. So, during the day, you should try to keep your feet clean (Dry) so that you do not get an infection.
Exercise – One more thing is that we enjoy the rainy season, but we cannot exercise because we have to stay indoors, so if it rains continuously, it would be best to exercise indoors.
Take care of your health, take care of joints, and can also take care of the spine.
Thank You!