Ceragem EcHom: Everything You Need to Know
At the heart of Ceragem lies its philosophy and vision of being completely customer-oriented. We value each experience, evaluation and feedback from our customers. More so that we adhere to maintain a relationship to cherish that is as close as being friends. Direct experience of a product speaks greater volumes than compared to post evaluation.
Driven by this philosophy, we create a step-by-step process and take measures in accordance with which we can help our patrons and customers to provide the best of our abilities. Especially considering the rise of the COVID-19 pandemic, where social distancing and staying at home are the new norms of everyday life, hence, maintaining our stand towards customers is what brings the concept of Ceragem EcHom to life.
EcHom is an abbreviation for Experience Ceragem at Home. By availing the EcHom service, you can experience the comfort of our thermal massager with your family directly at your home, whenever and as many times you want.
Amidst the coronavirus pandemic, the EcHom service will highly benefit users and their family members with healthy spine management without leaving their home. EcHom is Ceragem's initiative to provide people with spine management and fulfil their objective of complete well-being at home. Currently, we offer our flagship thermal massager, Master V3, under the service.
Why should you consider EcHom?
Ceragem has a strong network of 530 centres across India for you to utilise our services and familiarise yourself with the Ceragem V3. At these experience centres, you can try our products and experience the difference over a period of 2 weeks.
The process is simple and takes only 40 minutes of your valuable time but you can experience for more than 40 as per your wish. All you have to do is to lie down on the thermal massager and avail the benefits of spine management.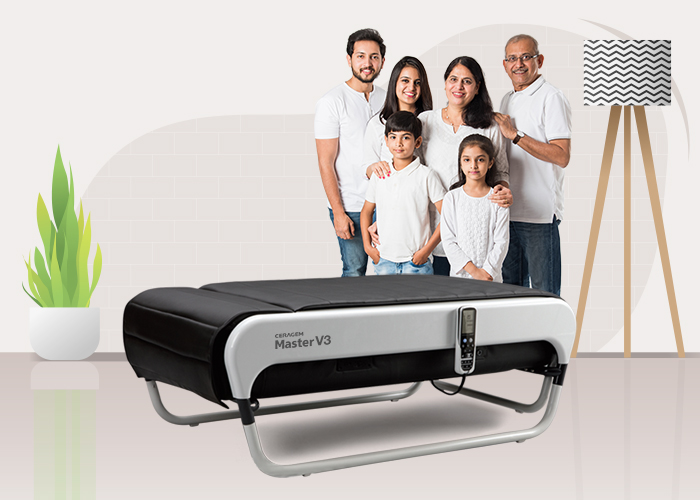 With Ceragem EcHom, we bring the Ceragem product to your doorstep to ensure that you don't have to venture out to take care of your spine. Consequently, this paves the way for you to stay safe at home, practice social distancing and manage your spine health.
The Ceragem EcHom service is for everyone including:
Parents and elders who devote time for their family
Office workers who return home tired from work
Homemakers who get tired from household chores
Students who feel tired after long study session
How does Ceragem Master V3 help the user?
Once you avail the service, we send a Echom in-charge HC to your home to familiarise you with the Master V3 thermal massager and help you understand its functions. And if you have some inconveniences or questions about using it, HC will help you through phone/video call and visit. The Ceragem V3 provides a customized and comfortable thermal massage to the spine and helps you manage a healthy spine.
Scientifically designed, the device comes with an innovative spine scanning function which scans your spinal characteristics and allows for a customised thermal massage. Fitted with Advanced Protector Moving System, the function adjusts its contour/height in accordance with the spine's curvature.
Furthermore, the product offers 6 different intensity controls and 12 massage programs, giving you the choice for a comfortable, personalised thermal massage. All family members can use MasterV3 with various modes.
Additionally, Ceragem Sound combines a selection of natural sounds to help you calm. The customisability of the feature also provides adding songs of your choice on the machine. And that's not all! The ingenious minds at Ceragem have provided another trick up the Master V3's sleeve.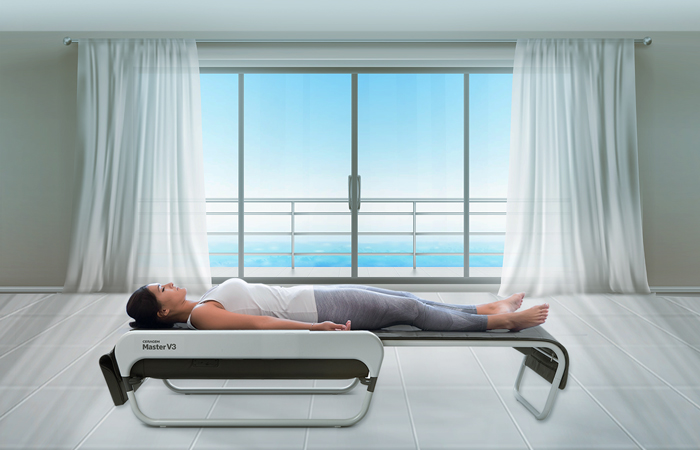 A convenient, smart design helps the machine turn into a sofa with a slide-in function on its underbelly. The modernity of the design also gives the device a chic, sophisticated aesthetic that goes well with the dynamics of any room.
How can I apply for Ceragem EcHom?
You can apply for Ceragem EcHom by filling a form and submitting it on Ceragem website. After that, we will get in touch with you and provide you the necessary steps required to avail the service.
When you pay the deposit (V3: INR 1Lakh or RL1: INR 50,000) and installation cost
(V3: INR 10,000 or RL1: INR 5,000), the EcHom is started for 2 weeks.
If you purchase V3 or RL1 through EcHom, deposit and installation cost you paid can be used as purchasing price. Moreover, we provide the Ceramix S1 mat (for V3 purchase), or Ceraball S1 mat (for RL1 purchase)!
To apply, click here: https://ceragem.co.in/Echom